Aussie Championships / Pre-worlds - Day 2
d Paul and Austin Taylor separated by one point with 7 races completed and one drop.  The Gilberts, on 12 points, managed three wins on a spectacular day on Princess Royal Harbour.  The Taylors sailed to one bullet and 3 thirds and are a threat on 13 points.


The highlight of the day for the sailors was the screaming reach from 3 to 4 in Race 6 which had the fleet planing beautifully against the backdrop of the town.
GBR showed well with strong sailing from David Conlon/Charlotte Bond, Ross Kearney/Max Odell and Miles & Rory Odell in particular. The rest of the squad, treating the pre-worlds for race tuning purposes, were there or there abouts but not fully competing.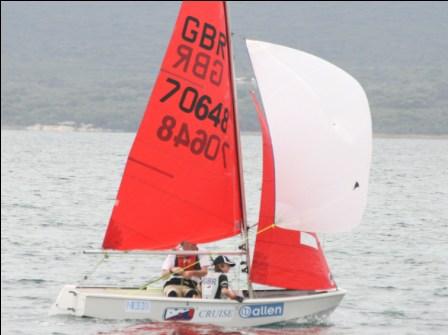 Craig Bond took the opportunity to tune the new mirror class association boat with the youngest member of the Brightlingsea squad, Tom King (aged 9).